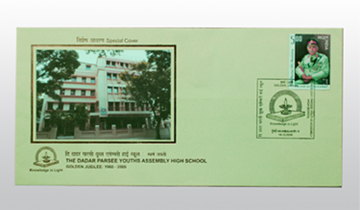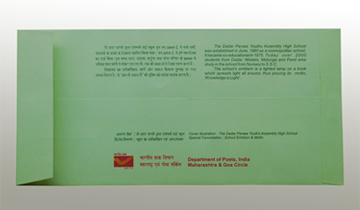 Commemorating the Golden Jubilee of the School
Philately means collecting stamps and other postal accessories. The postal cover which is issued to commemorate a new stamp is known as 'First Day Cover'. Department of Posts (DOP) also issues covers (envelopes) and cancellation (postmark) without a new stamp. Such a cover is known as 'Special Cover'. Any postage stamp in the denomination of local postal rate (Rs.5/-) can be affixed on the right top corner of the Special cover.
A special cover with a special postmark (cancellation) is released on important events, such as the celebration of the jubilee year of an institution, which has contributed much towards the development of society. The Dadar Parsee Youths Assembly High School has indeed spread the 'Light of Knowledge' to its surrounding areas. The school has completed 50 years.
Designs of Special Cover and Cancellation:
The cover depicts the facade of the school's building. It is surrounded by a rectangular golden border. The full cover is light green in colour. The reverse of the cover contains a brief description of the school. The description of the design on the cover, the cancellation and the emblem of the DOP with bilingual wordings 'DOP, Maharashtra & Goa Circle' appears at the bottom of the envelope. The special cancellation is square in shape. The emblem and the motto, 'Knowledge is Light' is in the centre. The name of the School is written in Devnagri script on the left side and in Roman Script on the right. The date of release (18-12-2009) and the Place (Mumbai) with the Pin code of the school (400 014.) are at the bottom.
The School is grateful to the Department of Posts, Maharashtra and Goa Circle for honouring us with the issue of Special cover and special cancellation on the occasion of its Golden Jubilee. In future, this cover will remind philatelists and non-philatelists of this grand institution, 'The Dadar Parsee Youths Assembly High School'